A Special Event at the Custom House Maritime Museum: 7 to 9 PM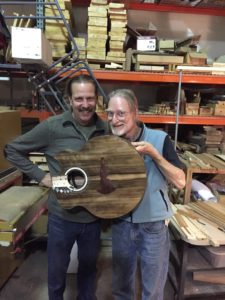 Steve Klein fans in New England will not want to miss this rare opportunity to hear firsthand from the legendary luthier who built guitars for Joni Mitchell, Steve Miller, Sting, and Stanley Clarke, among many others. Spanning a career of almost 50 years, Steve Klein pioneered major innovations in the design and craftsmanship of the electric and acoustic steel-string guitar.
In this special evening hosted by Jack Lepiarz of WBUR, Mr. Klein will be joined by his longtime building partner Steve Kauffman to talk about their work to innovate the art and science of guitar building – peppered with fascinating tales of working with legends in folk, rock, and jazz.  Guests will enjoy a reception and the opportunity to view an exhibit of rare Klein instruments. The beauty of these unique instruments will be brought to life through live performances by Brendan Burns and John Tavano.
For guitar aficionados, this is a very unique opportunity to meet a legend and see his work up close. Please joins us for an unforgettable evening with this American Treasure, brought to you by www.kleincommunity.com .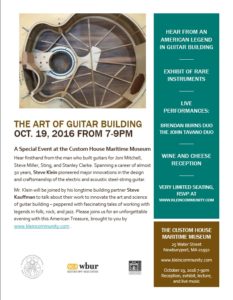 Location: Custom House Maritime Museum,
25 Water Street, Newburyport, MA 01950
Reception, Exhibit, Lecture, and Live Performances
October 19, 2016 from 7 to 9 PM
Seating at this event is extremely limited.  Tickets are complimentary, but you MUST REGISTER
Many thanks to our Sponsors: